My assigned blog for this month was
Little Bit of Everything
. This blog has such a large selection of wonderful recipes to choose from! It was really hard to decide, but lately I've been making recipes based on what people have given me from their garden, or what I've picked at the farm, so that helps narrow it down a bit.
I also had some fresh Ontario peaches and was also considering Julie's recipe for
Peach Caprese Salad
and
Peach Muffins
, but then decided on Zucchini Bites instead. My cousin gave me some really big zucchinis from her garden and I wanted to do something different with them. This recipe is very simple and everyone loved it! Next time I'm going to add more eggs and make them for breakfast on the go.
Julie also has a list of 50 recipes that she wants to try on her blog, and I thought that was a neat idea. Maybe I need to come up with a list of my own and get to work on it!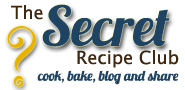 Zucchini Bites
Adapted from Little Bit of Everything
Makes 6 - 8 servings
Ingredients
1 1/2 cups grated and squeezed zucchini
1 large egg
1/3 cup grated cheese (Cheddar or Swiss would be good)
1/2 cup breadcrumbs
1/4 teaspoon salt
1/4 teaspoon black pepper
cooking spray
Directions
Preheat your oven to 400F and spray 6 or 8 reguar size muffin cups with cooking spray.
Grate your zucchini and squeeze out the excess liquid, then place the squeezed zucchini in a large bowl. Add the other ingredients and mix well.
Divide the mixture among the muffin cups and bake for about 23 minutes or until they turn golden and the middles are set.
Cool slightly before serving.