Welcome to another Secret Recipe Club post!
This month I was assigned a blog called Adventures in All Things Food. The thing about this blog though, is that it's not just about food. It's also about family! There are wonderful photos and crafts as well as recipes. I especially like all the chickens and pictures of the farm. How beautiful! You could visit Andrea's blog just for the pictures if you wanted to escape to the country through your computer screen.
It was pretty easy for me to choose a recipe because I had just been strawberry picking a few days before I went to check out Andrea's blog. There was a recipe for strawberry and cardamom muffins that looked and sounded delicious. We had the fresh strawberries and we like cardamom so it made sense. Don't be afraid of the cardamom. If you use less than 1/2 a teaspoon, you probably won't even taste it.
I used oil because I was running out of butter, and I don't have creamer so I just used milk. I'm sure buttermilk would also be nice. If your strawberries are a bit on the sour side, you can add a bit more sugar.
You can see that these don't get golden.
I'm not really sure why that is, but it doesn't matter, they're yummy anyway!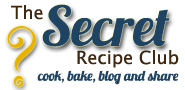 Strawberry and Cardamom Muffins
Ingredients
2 cups all purpose flour, divided
2 teaspoons baking powder
½ teaspoon ground cardamom
1 ½ cups fresh strawberries, sliced (plus extra for the top)
Directions
Preheat the oven to 400F and line 12 muffin cups with paper liners.
In a large bowl, whisk together 1 ¾ cups of the flour, baking powder, sugar, salt and cardamom. Set aside.
Toss the strawberries in the remaining ¼ cup flour. Andrea says this is a good trick to prevent berries from sinking to the bottom of your baked treats, and you can do this for any type of berries. It does work.
Mix the rest of the ingredients together in another bowl, then combine with the dry ingredients just until moistened. Then gently stir in the berries.
Divide the batter among the prepared muffin cups, then top each one with a few slices of strawberry.
Bake for 17-20 minutes or until a tester comes out clean. Let them cool before serving.