This month I was assigned
Family, Food and Fun
for the Secret Recipe Club challenge. Rebekah is the mom of 5 beautiful children, and I love that her blog includes posts about her family. She's also VERY talented at decorating cakes. Go to her blog and have a look at them by clicking on the "Decorated Cakes" tab. Amazing!
For the last challenge I chose a recipe inspired by the zucchini that my cousin gave me from her garden. The month before that, I was strawberry picking, so went looking for a strawberry recipe. But this time I didn't really have anything to inspire me. I hadn't been to any farms that week and nobody gave me anything from their garden. This time I just decided to browse Rebekah's recipes until something called out to me.
Well, as it turned out, many things were calling out to me. The
Mini Pretzel Dogs
,
Pizza Rolls
,
Gingerbread Pancakes
and
Shredded Beef au Jus
were all looking really good. In the end, I decided to go with a soup because my kids like soup and I haven't made one in awhile (maybe because it's summer).
I went with the potato soup. It sounded simple and we love creamy soup. Also, I don't use a lot of potatoes yet I still buy the big bag because it's cheaper, so this was an excellent way to use them up.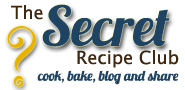 Potato Soup
Adapted from Family, Food and Fun
Makes 4-6 servings
2 lbs potatoes, peeled and diced
2 tablespoons chicken bouillon
water
1/4 cup butter
1 onion, chopped
3 stalks celery, chopped
2-3 cloves garlic, chopped
2 tablespoons all purpose flour
1-2 cups 2% milk
¼ teaspoon dried thyme
½ teaspoon black pepper
¼ cup parmesan cheese
Cheddar cheese, green onions or chives and crispy bacon for garnish
Directions
Place potatoes in a large pot and add water just to cover them. Add the bouillon and bring to a boil. Reduce to medium heat and simmer until the potatoes are tender, about 15-20 minutes.
While the potatoes are cooking, melt the butter in a pan over medium heat, and add the onion, celery and garlic. Cook until tender.
Add the flour and stir for 1 minute. Remove the pan from heat and set aside until the potatoes are cooked.
Once the potatoes are cooked, add the cooked vegetables to the pot (do not drain potatoes) and then stir in 1 cup of milk, thyme and pepper. I then blended a few cups of the soup and returned it to the pot. Cook over low heat until heated through. Add Parmesan cheese and more milk if you need to thin it out a bit.
Serve warm with shredded cheese, green onions, and bacon!
I think this might also be nice with some corn and chili powder in it. Next time!
Make it vegetarian by using vegetable bouillon and leaving out the bacon.