The blog I was assigned for my March SRC post, was Learning Patience. It's a blog about food, fitness and travelling. There are so many great recipes there, and I especially like the ones with bacon!
Click here
for Corey's bacon recipes. I just love
the photos
of her trip to Nicaragua. What a beautiful place! I also really enjoyed looking at the photos of other places she's been, especially since I haven't traveled anywhere exciting myself.
The week I got the email with my assigned blog in it, my daughter also brought home a procedural writing assignment to do for school. I decided to combine our assignments, and find a recipe that would be easy enough for a 6 year old to help make and then write about. She's only in grade 1 and she's still learning how to spell, so any homework she brings home, becomes homework for me too. Of course, she couldn't bring in any samples because Nutella has nuts (and it's a nut free school), so I ended up eating most of the cookies myself. These turned out crispy but still slightly chewy in the middle.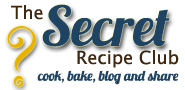 Nutella Chip Cookies
Adapted from Learning Patience
Makes about 18
Ingredients
1 and 1/3 cups all purpose flour
1/2 teaspoon baking powder
1/2 teaspoon baking soda
1/4 teaspoon salt
1/2 cup butter, softened
1/2 cup Nutella
1/3 cup granulated sugar
1/2 cup brown sugar
1 large egg
1 teaspoon vanilla
1 cup chocolate chips (we used milk)
Directions
Preheat the oven to 375F and line a baking sheet with parchment or a silicone liner.
Mix together the flour, baking soda, baking powder and salt. Set aside.
Beat together the butter, Nutella and both sugars. I did it with a wooden spoon for about a minute because I'm too lazy to clean the mixer, but Corey suggests using the electric mixer for about 4 minutes. My cookies were still amazing.
Add the egg and vanilla and beat for another minute until smooth.
Now stir in the flour mixture with a wooden spoon just until combined, then add the chocolate chips.
Use a large cookie scoop (or ice cream scoop) and place scoops of dough on the sheet. We did about 6 per sheet so they wouldn't bake together.
Bake for 10 minutes or until the edges are golden. The inside might look a little underdone but they will be perfect a few minutes after you remove them from the oven. Give them a minute on the baking sheet before transferring to a wire rack to cool completely. Store in an airtight container. They won't last long.