Welcome to my first Secret Recipe Club post of the year! This time, I was assigned a fabulous blog called A Spoonful of Thyme. I was thinking I might like to go and live with Kate so she can feed me. I've been pretty lazy about cooking lately, and all her food looks so good. There were so many delicious recipes to choose from and it was hard to pick just one. At first I was going to make Potato Cheese Soup, but I didn't have any ale. These Bacon and Cheese Stuffed Mushrooms also looked pretty amazing. In the end, I decided to go with a Cranberry Breakfast Cake, because I felt like having cake. This recipe was super easy, and I made it 3 times in one week.

I always have cranberries in the freezer because you just never know when you'll need some. There's no reason why you can't have cranberry sauce with your chicken all year long is there? This recipe calls for fresh, but mine were still frozen and they still worked out perfectly.
I used a loaf pan the first time, and a round pan the second and third time. The second time, I cut the recipe in half. It took about 10 minutes less to cook, but then I had to make another cake the next day because we wanted more.

I didn't have any turbinado sugar left, so I just used regular granulated sugar and it was fine. It adds a little crunch to the top. The second and third time I chopped up some almonds and sprinkled them on top before baking. Nuts are optional of course, but they had a nice roasted flavour and we like them.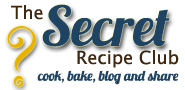 Cranberry Breakfast Cake
From A Spoonful of Thyme
Makes 10 slices

Ingredients
1/2 cup butter, melted
1 cup granulated sugar
2 large eggs
1 teaspoon almond extract
1 cup all purpose flour
1 teaspoon baking powder
1/4 teaspoon salt
1 heaping cup of fresh cranberries
2 tablespoons sugar (turbinado if you have it)

Directions
Preheat the oven to 350F. Grease a loaf pan (or round pan) and set aside. I also lined mine with parchment.

In a bowl, mix the melted butter and sugar with a wooden spoon. It won't take long. 30 seconds will do.

Beat in the eggs and extract until creamy. Another minute here.

Stir in the flour, baking powder and salt just until combined, then gently fold in the cranberries.

Spread the mixture into the prepared pan and sprinkle with the remaining sugar. The batter was very thick, you can just use a spoon to push it evenly into the pan. Bake for 35-45 minutes depending on your pan. Use a toothpick to test at 30 minutes.

Let the cake cool completely before cutting.