This challenge was a bit more difficult because I needed to find a recipe that was much lower fat than your average fried chicken. The rules of the challenge have changed a bit in that we are now able to select a recipe from anywhere (not just from other bloggers). I decided to go with this recipe from
Eating Well
. It was super easy but I won't lie, it would have been better with skin. Spraying the chicken with cooking spray did nothing to keep it moist. I loved the flavours though but I probably won't make it again without the skin.
Now, I ran into a little problem. I was sure I had sesame seeds at home so I didn't buy any. But when I went to make the recipe I realized that I was mistaken. I searched high and low but there were none to be found. I did have some little black seeds called sadaf (black caraway). You find them sometimes on Barbari bread.
Other recipes I considered were
Southern-Style Oven-Fried Chicken
from Weight Watchers and
Buttermilk Ranch Fried Chicken from LaaLoosh
.
I did actually make the Weight Watchers recipe first, using Panko instead of cornflakes (because I didn't have any), and it was crispy & delicious, but the cooking spray really didn't do a good job (same result I had with the recipe I chose to use in the challenge). The chicken stuck to the foil and didn't take on any colour at all even though I sprayed the top with more cooking spray. I wasn't able to take any photos of that recipe. I should have used parchment as I always do but anyway. Too late now.
The Eating Well recipe that I chose called for buttermilk, but I just combined 1/2 cup of 2% milk with a squeeze of lemon juice and used that instead. I always buy buttermilk for a recipe and the rest ends up in the trash so I didn't even bother this time.
Here we go!
Here's the finished chicken. This photo is no better than the ones I took of the Weight Watchers chicken. Oh well, too late! Next month I try harder =)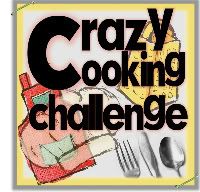 4 servings (1 whole leg each)
(Per serving : 6 PointsPlus / 258.8 Calories)
Ingredients
1/2 cup 2% milk
1 teaspoon lemon juice
1 teaspoon hot sauce (or to taste)
1 tablespoon dijon mustard
1 teaspoon salt
1/2 teaspoon pepper
2 cloves garlic, crushed
4 skinless chicken legs (or cut them into 4 drumsticks and 4 thighs)
1/2 cup whole wheat flour
2 tablespoons sesame seeds (or sadaf)
1 1/2 teaspoons paprika
1 teaspoon dried thyme
1 teaspoon baking powder
1/8 teaspoon salt
1/4 teaspoon pepper
cooking spray
Directions
Mix together the milk and lemon juice and let it sit for 10 minutes to sour. To the sour milk, add hot sauce, mustard, salt, pepper and garlic. Stir well and place it in a dish just large enough to hold all your chicken pieces in a single layer. Cover and refrigerate for at least 30 minutes (mine marinated for 2 hours).
Preheat the oven to 425F. Line a baking sheet with foil and place a wire wrack on top that's been sprayed with cooking spray.
In a large bag, place all the other ingredients and give them a good shake. One piece at a time, remove the chicken from the marinade and let the excess drip off a bit. Shake each chicken piece in the dry mixture until coated.
Place the coated chicken pieces on the wire rack and spray them with more cooking spray. Or just give up and use chicken with skin in the first place. I think it just might be worth the extra points.
Bake for about 40 minutes or until no longer pink inside. If you're using boneless it may take less time. Let them rest for 5 minutes before serving.
Tools I used to calculate nutritional information/points:
The recipe calculator tool from

Spark People

and the
Weight Watchers points calculator
.