I have to admit, I chose a pretty amazing recipe for this Crazy Cooking Challenge! This month it's all about blueberry muffins. I used frozen blueberries instead of fresh and I think that's why my batter turned purple, but you can use fresh if that's what you have. I absolutely love these muffins! Of course, they lose a bit of the crunch the next day but I liked the muffin better. I usually prefer muffins and quick breads the day after they're made. I got this recipe from a nice blog called
carnaldish
. I'm #35 in he linky party.
The blueberries after they've cooked down.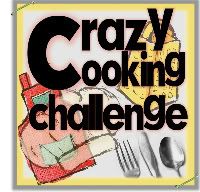 My purple batter. It probably wouldn't be purple if you use fresh berries.
You can swirl the cooked berries into the batter if you want.
If you like my muffin, click #35 below!
Makes 12-16 muffins
Ingredients
1½ teaspoons grated lemon zest
2 cups frozen blueberries, divided
2½ cups all-purpose flour
2½ teaspoons baking powder
4 tablespoons unsalted butter, melted and cooled
1½ teaspoons vanilla extract
For Lemon Sugar Topping; Stir together sugar and lemon zest in small bowl until combined and set aside. I just used a small fork to do this.
For Blueberry Topping; Bring 1 cup of the blueberries to a boil in a small pot with 1 teaspoon sugar and ½ teaspoon zest. Cook over medium heat for about 5 minutes until the mixture thickens. You can mash the berries with a fork if they're fresh, the frozen ones didn't seem to need any mashing.
For the muffins: Stir together the milk and juice of ½ a lemon. Let it sit for about 10 minutes. I did this because I didn't have buttermilk. If you have buttermilk, you can use 1 cup of that instead.
Soak 1 teaspoon of lemon zest into 1 tablespoon of lemon juice while the berries cool to room temperature, about 10 minutes.
In the meantime, preheat the oven to 425 degrees and line 16 muffin cups with paper liners. The original recipe said it made 12, but I got 16 out of it. You can make them a little bigger if you want. In that case, only line 12 tins with paper liners. It's up to you!
Whisk flour, baking powder, and salt together in large bowl and set aside. Whisk 1 1/8 cups sugar and eggs together in medium bowl until creamy. A minute of whisking will do.
Slowly whisk in butter and oil until combined. Add the lemon zest that's been soaking in lemon juice along with the milk and vanilla until combined. The recipe said to drain the zest and discard the juice. But why would I do that? I just put the whole thing in. These are lemon blueberry muffins after all!
Fold the wet mixture and remaining cup of blueberries into the flour mixture just until it's most. Lumps are okay.
Divide the batter among prepared muffin cups. Then, place some of the blueberry topping in the centre of each muffin. You can swirl it around with a tooth pick but I didn't. Sprinkle lemon sugar on top then bake for about 15 minutes or until a toothpick comes out clean.
Cool them for a few minutes in the tin then move them to a wire rack to cool completely.