It's that time of the month again. No, not that time! It's time for another Crazy Cooking Challenge! This month it's all about spaghetti! I chose this recipe for baked spaghetti from
Cully's Kitchen
because it's easy and it has lots of cheese! I used a nice Catelli sauce. I like the thickness of it. You can use whatever flavour sounds good to you.
Here we go!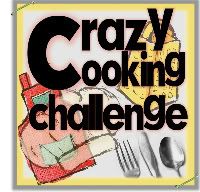 Ingredients
1 box spaghetti
1 lb lean ground beef or chicken
8oz fresh button mushrooms, sliced
4 cloves of garlic, minced
1 medium Onion, chopped
1/2 teaspoon cinnamon
1/2 teaspoon turmeric
1 tablespoon oregano
1 tablespoon italian seasoning blend
1 700ml jar spaghetti sauce
salt and pepper
2 cups grated cheese (I used Italiano blend)
Directions
Preheat the oven to 400F.
Boil the spaghetti according to package instructions. Make sure it's not overcooked since it's still going in the oven after it boils and will cook a bit more.
What the pasta's cooking, in a pan over medium high heat, fry the beef with mushrooms, onions and garlic for about 10 minutes or until meat is cooked through and vegetables are tender. Stir in cinnamon, turmeric, oregano and italian seasoning. Stir in the spaghetti sauce and taste it. Add salt and pepper to taste.
Drain the spaghetti and toss it in the sauce. Use tongs and make sure it's well mixed.
Place 1/3 of the spaghetti into a glass baking dish followed by 1/3 of the cheese. Repeat 2 more times. There should be a layer of cheese on top.
Bake your spaghetti for 15-20 minutes or until the cheese is melted.