It's time for another Crazy Cooking Challenge! This month's theme is Chicken Noodle Soup. It's so cold here right now and soup is just what we need to get warmed up. I decided to go with a creamy soup because cream soups are my favourite. I adapted this recipe from a wonderful blog called
The Yummy Life
. It was really delicious! My 4 year old had 2 bowls.
I didn't have evaporated milk so I just used 2% instead and it worked out perfectly I also added peas because my kids like them.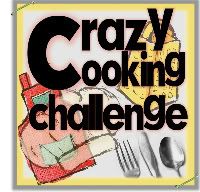 6-8 servings
Ingredients
1 tablespoon olive oil
1 garlic clove, minced
1 cup diced onions
1 cup diced mushrooms
1 cup diced carrots
1 cup diced celery
1/3 cup all purpose flour
1 teaspoon dried oregano
1/2 teaspoon ground black pepper
1/2 teaspoon dried thyme
1 teaspoon poultry seasoning
1 teaspoon salt
1 tablespoon chicken soup base
6 cups no salt added chicken broth
2 cups cooked shredded (or cubed) chicken
1 1/2 cup 2% milk
2 cup uncooked pasta (I used Catelli Smart spaghetti broken up)
1/2 cup frozen peas
2 tablespoons fresh parsley, chopped
Directions
Heat olive oil in a pot over medium high heat.
Cook garlic, onion, mushrooms, carrots, and celery for about 5-7 minutes or until soft.
Sprinkle flour, oregano, pepper, thyme, poultry seasoning, salt and soup base over the vegetables and cook 1 minute while stirring.
Add broth and bring to a boil then reduce heat and simmer, partially covered, for 10-15 minutes.
Add chicken, milk, and noodles. Continue cooking for 10 minutes or until noodles are tender. Stir in the parsley before serving.