Welcome to another Crazy Cooking Challenge! I'm excited about this one because it's all about fudge!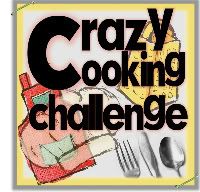 I chose a recipe that fits the season. Nothing says winter like hot chocolate! And how about hot chocolate on a stick? I altered the recipe a bit. I had heavy cream left from another recipe, but when I went to make the fudge I realized it had expired a few days earlier so I used milk instead. My can of condensed milk was 12oz rather than the 14oz called for in the recipe, so I tried to adjust the other ingredients. I'm not sure if it's because I used milk or I didn't add enough chocolate, but my fudge turned out a bit softer than I would have liked. It just wasn't possible to cut it into squares even after refrigerating overnight. But I wasn't going to toss it! Oh no no no .... save the fudge! I pulled out my small cookie scoop and rolled it into balls. Then I coated it in cinnamon sugar and topped it with a mini marshmallow. Yum yum! Hey. I bet you could even coat these in chocolate, cocoa or sprinkles and call them truffles! But we're doing fudge today so we're calling them fudge balls!
Now, if you want, you can get the recipe for homemade marshmallows from the same blog where I found the fudge recipe. I decided to cheat and use the storebought minis. I found this recipe on
make & takes
. I absolutely love the way Jane packaged her fudge in cellophane tied with red ribbon, then placed them into white paper bags with a snowman on the front.
Makes about 40 fudge balls
Ingredients
1/4 cup 2% milk
12 oz can sweetened condensed milk
1 teaspoon ground cinnamon
1/2 teaspoon vanilla
2 1/2 cups semi sweet chocolate chips
4oz unsweetened chocolate, chopped
1/4 cup sugar
1 tablespoon ground cinnamon
about 40 marshmallows
Sticks (you can use skewers, toothpicks, lillipop sticks, coffee stir sticks etc.)
Directions
Over medium heat, cook milk, condensed milk, cinnamon and vanilla in a pot just until it starts steaming.
Stir in chocolate and let it sit for 10 minutes then return to the stove, on low heat, and cook for a few minutes until it turns shiny.
Spread into a parchment lined (and lightly greased) dish and chill for several hours or overnight. This is what I did when I thought I was going to cut it into squares. But since it won't cut into squares because it's too soft, just go ahead and put it in a bowl and refrigerate it like that.
Mix the cinnamon and sugar. Set aside.
Using a small cookie scoop (or a teaspoon) take some of the fudge and roll it between your hands into little balls. Coat the balls in cinnamon sugar. Put the marshmallow on a stick and put it on top of the fudge ball. Place them in little paper candy liners and store in the refrigerator.
Tip: If you want a stronger cinnamon flavour, you could try adding some cinnamon extract.