It's time for another Crazy Cooking Challenge! This month the theme is mashed potatoes. I went with a recipe that reminds me of baked potatoes with sour cream and chives that I found on
Sunday Baker
. I just happened to be roasing a whole chicken so I decided to throw a bunch of garlic cloves in the pan to use in the mashed potatoes. You can use raw minced garlic if you prefer. I also used the pan drippings in the potatoes since the recipe called for broth. Even my littlest one liked these and she doesn't usually eat anything mashed so that says something! Mmmm!
Don't they look creamy and delicious?!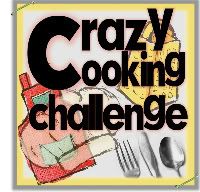 6 servings
Ingredients
3lbs potatoes, peeled and cubed (I used white)
5 cloves roasted garlic (or 3 cloves raw, minced)
1 cup low fat sour cream
3/4 cup chicken broth
3 tablespoons chopped chives
salt and pepper to taste
Directions
Boil the potatoes in a large pot of salted water for about 15 minutes or until tender. If using raw garlic, add it to the boiling water as well. Drain.
Give the potatoes mash with a potato masher then add all other ingredients. Keep mashing until the potatoes are as smooth as you like them.
That's it. Mashed potatoes are easy, there's no reason not to make them more often!