I was always on the hunt for the chewiest chocolate chip cookie recipe I could find. Then I joined the Crazy Cooking Challenge! I decided it was time to move on and look for something different. I stumbled upon a recipe for Chocolate Chip Rugelach on an awesome blog
Bakerita
. I absolutely LOVE these cookies. They're flaky and delicious! The only change I made was to use regular size chocolate chips since I couldn't find any mini ones when I went to buy some of the ingredients. Oh, how I wish I had some of these right now!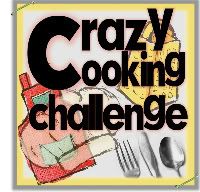 The dough all rolled out.
Sprinkled with cinnamon sugar and chocolate chips.
Rolled and ready to be chilled.
Mmmm! Fresh from the oven. It's coffee and cookie time!
48 cookies
2 cups all-purpose flour
1/4 teaspoon salt
1 cup cold unsalted butter, cut into chunks
1 (8 ounce) package cream cheese, cold, cut into chunks
1/3 cup sour cream
1/2 cup white sugar
1 tablespoon ground cinnamon
1 cup chocolate chips (I used semi sweet)
1 tablespoon milk
1 egg white
Turbinado (or course) sugar for sprinkling
Combine flour, salt, butter, cream cheese and sour cream with a pastry cutter (or if you're me, use your hands) until crumbly. You could also use a food processor.
Divide into four equal balls and flatten into disks. Wrap separately in plastic wrap and chill for at least 2 hours.
Combine cinnamon and sugar.
Roll each disk into a 9 inch circle. Be sure to keep the other ones chilling so they don't get warm. Bakerita suggested using a large bowl as a guide to trim the circles but I just eyeballed it. Sprinkle on 1/4 of the cinnamon/sugar mixture and then 1/4 of the chocolate chips. Press into dough. I used my hands. Be gentle.
Cut each circle into 12 wedges. You can use a pizza cutter but I just used a sharp knife. Roll the wedges starting at the wide end.
Beat the milk and eggwhite together and brush it onto the tops of the cookies. Sprinkle on some sugar. Place the cookies on parchment lined baking sheets and chill for 20 minutes before putting in the oven. Repeat the whole rolling and cutting process for the other 3 disks of dough.
To bake, preheat the oven to 350F and place the chilled cookies on the middle rack for 22 minutes or until golden. Cool on wire racks. Store them in a nice airtight container. Bakerita says they freeze well but I wouldn't know anything about that. They didn't last that long!
Tip: If you think this recipe is as delicious as I do, then please vote for it on the Crazy Cooking Challenge this month!